It's the start of a new year. Most of us are busy setting to work on getting things really going so that we can achieve our New Year's Resolutions, or more practically that goals we set to build on last year's victories.
Are you with me on this?
Here's something that keeps popping up here and there in just the 4 short days of 2016, and I want to focus a little time on it now with you so we can move forward to achieve our shared and individual goals AND enjoy the process.
Sometimes we need just a little encouragement.
I'm going to be tempted to get bogged down in details with finding the right THIS or the best THAT to use in employing strategic elements to reach my goals this year. And there's a pretty good chance that I'll see someone advertising on Facebook or soliciting on Google that they were able to build, grow and reach millions of new people with tons of new business, all in just 3 weeks (or something ridiculous like that), and I might feel like I missed the mark.
I'm still working on reaching the big goals I set 3 years ago as far as reach and I haven't made it yet. But I will.
However, I'll admit to you that I do get a little discouraged at the pace of growth sometimes. You might get discouraged too, right? Do you feel a little bit thrown off like you missed the boat when you see an ad or a pitch for an online course, Ebook, or webinar where someone claims to have done something that you've spent months or years working on, and they achieved it in days or weeks? Most of these claims aren't entirely accurate (experience showed me this unfortunately, but that's a conversation we can have later) yet the feeling is real.
Sometimes we need just a little encouragement to see that when we keep working, stay focused on our goals, and put to use the insights and ideas that even outside events show us, good things can hapen. We'll see our dreams come to life, and we'll celebrate the victories that accomplishing goals brings us.
With the notion that disappointment might try to sneak in and throw off my groove, I've been on the lookout for some small pieces of encouragement, and have successfully found a few. I want to share them with you, so that you can grab them when the little antagonizing voice of disappointment or failure comes sneaking up on you and tries to throw off your groove. Then you can punch it in the mouth with this great stuff.
Here we go.
First, I'm a football fan and being from Houston I celebrate the Texans. Sorry Cowboy fans, it's been a tough year for you guys. Hopefully something good can happen in the offseason.
The Texans made it to the Playoffs this year for the first time since 2012, beating the Jaguars yesterday 30-6. It was a tremendous game that saw the defense do things that would make for a full season highlight reel. The encouragement I found from this was more than just a victory, and more than just a trip to the playoffs. These guys had been written off as losers and a lost season just 8 weeks ago.
Think about that.
Most teams who start 2-5 don't end up with winning seasons, and they also don't make the playoffs. The coaching staff (led by Bill O'Brien) changed the way the team practiced, putting the decisions of game-time flow in the hands of the players instead of telling them what to do during the week. That changed everything. They went on to win 6 of their next 8 games, take the team to the post season and do what the sports world had said wouldn't happen. That to me is encouraging. It means that when things aren't working out, I can change something small, or something off the radar and get better results.
Switching from sports to politics might be a little off-kilter but that's ok too. I don't want to weigh in on the political race of 2016, because it is a bit of a divisive mess right now. However, it's interesting to look at some recent news posted on the campaign of Bernie Sanders, the independent Senator from Vermont (who is running for the Democratic nomination). Like him or not and regardless of your political views, he should be someone that entrepreneurs, small businesses and especially musicians pay attention to because of his grassroots growth.
Remember that little temptation I mentioned earlier that most of us fall prey to, the one that tells us we're failing if we don't grow exponentially in our platform audiences in a short amount of time? Bernie has done something in his campaign that most crowdfunders dream of, let alone small business startups and DIY musicians. He's raised millions of dollars appealing to people on a personal and real way.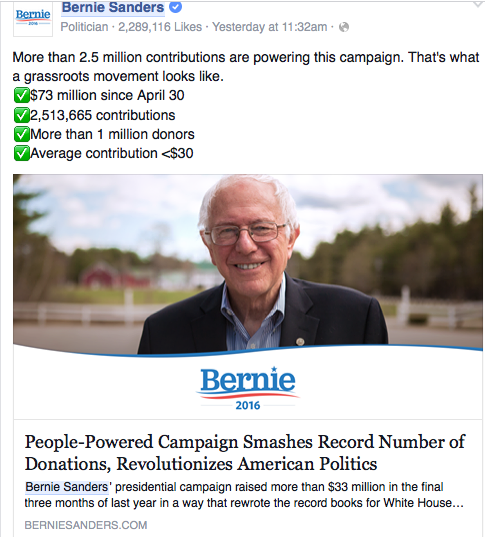 I took this little pic off of Facebook because it's the easiest to illustrate. Again, I reference these stats and Bernie's growth not because of his politics but because of how he's connecting with real people. On a whole, I've talked a lot about the difference between building empires and building communities. I believe community building beats empires over time. It would appear that this is true based on these stats too, regardless of whether he wins the nomination for the Democratic party or not.
The encouragement I get from seeing this little blurb is that when you are real with people, appeal to individuals on a common level and not segregate others out or kick people out because of some jaded belief system, you can build strong and powerful bonds with people of different walks of life, different cultures, different beliefs, but shared values. Isn't that what makes strong communities vibrant and thriving?
A more little note of encouragement on this piece-note that the average gift to his campaign is less than $30. That's less than the average contribution to a nonprofit fundraising campaign, a public radio pledge drive, or a crowdfunding campaign for a tech startup. Again, it's not about the size of the gift but the way that individuals are impacted. I can be encouraged by that. How about you?
One final piece of encouragement to start the year off, this time I'll dive into a different realm in music. I confess to spending absolutely zero time looking at anything involving pop music. I admit to following the latest news with Adele and Taylor Swift only because of the impact of the music licensing royalties with Soundexchange and the new lawsuit against Spotify because it pertains to my work (both in radio and in working with musicians). Their shared impact on music streaming platforms is intriguing as well.
Plus, in an age when music streaming is the standard method of listening for most people, their success highlights the fact that people continue to buy albums. Musicians, make note of this.
I heard a little bit of both Adele and Swift's albums from 2015. My conclusion? Not really impressed, and it's not because they're pop stars. I don't get the heart, soul and powerful presence from them that I do from the albums by Iron & Wine and Ben Bridwell (Sing Into My Mouth), Trevor Hall (who had 2 releases in 2015 and both were stellar) or Brandi Carlile (The Firewatcher's Daughter). Only Carlile among them got national recognition (via a Grammy nom). Yet despite the lack of national attention, these artists continue to grow their audiences by making great albums, convicted to the notion that real music is found in a full album experience that they deliver time and time again. By the way, they're all nominated for a big award I do every year and you can hear 2 cuts from their 2015 releases HERE.
In a music world (and industry) that seems to be dictated by flashy imagery and millions of social media imprints, here are 4 musicians who don't fit the pop culture's mold of success and yet they continue to write, perform and thrive. That my friend, is inspiring. Here's the thing though, these are just a very small group of the many MANY musicians out there who are thriving and winning in this constantly changing marketplace for music, one where the industry is panicked. When you connect with real people by giving them a powerful experience, you will win. That's the way it works.
What experience are you giving?
That's the question I'm asking myself every week when I sit down to produce The Appetizer Radio Show. What experience am I providing? What experience do I want my audience to have? I think that every musician and every business owner should let that question pass through their brains at some point during every week, at least a few times. In the end, it's the experience that brings people back to us, that we build community together with, and who help us reach the goals we set out for ourselves.
Did you need a little encouragement to start your week? Good. Now let's move forward together!