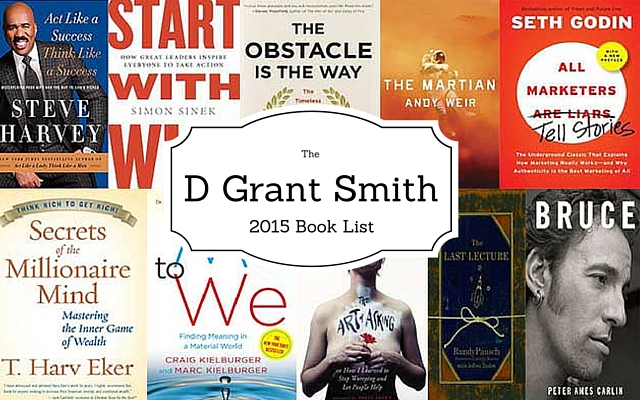 After an inspiration from one of the authors you'll read about soon, I've made my first ever book list.
I read a lot of books in 2015.
These are the best ones of the pack. Most are Business and Self-Help books with a few biographies and memoirs.
There are affiliate links presented here if you want to buy any of these titles from Amazon. Yes, you'll be helping me if you buy through my affiliate links and I do appreciate that.
If you choose to shop for them at a book store or Goodwill (where I have found a few of these titles) that works too.
The big thing for me is to have a book list given to you to help you grow.
Feel free to comment or message me on suggestions you have.
If you're not a member of my subscription list, sign up now to get a bonus mentioned at the end of this list.
Connect with me on Goodreads and let's talk books. You can see my recents and favorites in the widget at the bottom.
The Top 13 Books Read in 2015 (in no particular order)
1. All Marketers Are Liars: The Underground Classic That Explains How Marketing Really Works–and Why Authenticity Is the Best Marketing of All

by Seth Godin
A manifesto on the power of story-telling with anyone who has something to sell be it a product, service or (namely) themselves.
Our inability to get people on board with what we do has more to do with our inability to convert powerful stories that incite action than it does our ability to deliver great work.
It's up to us to be better storytellers to grow the exposure and (ultimately) marketing strength that we seek to build and expand.
2. The Art of Asking: How I Learned to Stop Worrying and Let People Help
By Amanda Palmer
It is a year of reading manifestos.
Mrs. Palmer's book was a revolutionary piece of writing that spoke to the inner depths of my heart and soul. She addresses fears that had stayed with me for most of my life.
I credit this book with being a prime source for overcoming these fears and challenging many debilitating thoughts that have hindered my personal and professional growth.
It's also why (and how) I was able to launch my first-ever crowd funding campaign and exceed the goal. Because learning the art of asking (and admitting that you don't have all the answers) is a gift in and of itself.
Aside from that, Amanda embodies the strengths of seeing individuals wholly. Which garners people into her spheres and increases the audience connection she's fostered for years. It's very inspirational.
3. Mandela's Way: Lessons on Life, Love, and Courage
By Richard Stengel
I read this book because I believe that we can learn the art of forgiveness and wholeness without fostering bitterness and resentment.
I knew that from the history of what Mandela experienced post-prison. I didn't know how he did what he did in grace and peace.
Come to find out that Mandela's peace with his captors was an internal decision to not sink to their level.
Though he was technically in prison physically, he refused to think like a prisoner, nor be treated as one.
His mental strength was superior to anyone he experienced in prison and he brought that strength (and matured experience) with him when he became South Africa's President/Prime Minister.
Forgiveness isn't just a decision we make about the people who wrong us, it's a decision we make about ourselves and how we see our individual worth.
That's the way of Mandela.
4. The Greatest Miracle in the World
by Og Mandino
I used to believe that sales was the biggest weakness I had as a business person. Picking up this book at Goodwill was the direction of seeking a path to become a better salesman.
This book is a work of fiction. Ultimately, told as a parable about a servant to a great merchant in the Middle East who is tasked with trying to sell a garment that would end up doing so much more.
There's a biblical allegory in the tale. What I learned from it is that giving to others for the interest of someone else can result in greater reward than fulfilling a personal interest can. This is something that requires balance. Because over-giving can also lead to people-pleasing and codependency. Which is a whole other battle in and of itself.
5. The Last Lecture
by Randy Pausch
I had heard that this was a ground-breaking book but I didn't know exactly how.
Amazon recommended it too.
Pausch was a lecturer at Carnegie Mellon who specialized in virtual reality and got terminal cancer.
He was asked to give the last lecture on what was most important in life. The entire book I thought was leading up to his actual copy for the lecture, but it wasn't.
He pulled a head-fake (you'll have to read the book to get what that means).
The end results of reading this book are looking at life and the pursuit of happiness differently because of the powerful stories expressed here.
They left an inspiration to do more, be more, and matter more than merely just being a celebrity could ever achieve.
6. Act Like a Success, Think Like a Success: Discovering Your Gift and the Way to Life's Riches
by Steve Harvey
I've always liked Steve Harvey, from his days on the Kings Of Comedy Tour to his work hosting the Family Feud.
I didn't know how much of an inspiration he is as a person until reading this book, nor did I know the challenges and obstacles he faced to get to where he is.
I didn't realize that Steve had been homeless for a while. He had worked in a few jobs that were not in the entertainment world until he knuckled down and focused his complete attention on what he wanted.
Most of this book is about the act of thinking like successful people think, which ended up being a concurrent theme in the majority of the books I read this year.
One of the most powerful elements of the book deal with understanding who you are and what vehicles you take on your path to reaching the goals you set.
Often times we look at our vehicles as the identifier to who we are, instead of just seeing it as a part of the journey.
This truth alone is worth diving into the book and discovering the rest of Mr. Harvey's wisdom.
7. Bruce
by Peter Ames Carlin
I'll admit to being a Bruce Springsteen superfan.
More than that, I'm a student of the art of building a super fan base.
The Boss is certainly one of the rare artists who has garnered a strong, loyal, and passionate following that has stayed with him for 40 years.
People sell their belongings and travel the country to see him perform.
Only a handful of artists in history have garnered the loyal base of followers that Springsteen has.
This book is more than a history of Bruce and how he became a star.
It's the only authorized biography written in the last few decades, recording even exclusive interviews with friends, family, and band members that other writers don't have access to.
How do you build an army of super fans? Read this book and learn the Springsteen method.
It will change the way you go about trying to build your brand name.
8. The Obstacle Is the Way: The Timeless Art of Turning Trials into Triumph
by Ryan Holiday
This was an Amazon purchase and worth every penny.
Reading this book would lead to more self-discovery than just about anything else, and make me a big fan of Ryan Holiday.
This book list is also inspired by Mr. Holiday's influence.
I'm inspired by the underdog story, hence my fascination and obsession with the Rocky movies (among other stories).
The concept implied in the title of this book was reason enough to pick it up. It also turned me on to Ryan Holiday as a voice of direction in a confusing world of mass-marketing.
Drawing on the wisdom of the Stoics (namely Marcus Aurelius), Holiday illustrates that our greatest challenges are gifts. He shows us that we have the power to turn our giants into vehicles that propel us forward instead of being the things that hold us back.
9. The Martian
by Andy Weir
I didn't read a ton of fiction this year, but this book was certainly worth the experience.
A remarkably quick read and a compelling story that keeps you tuned in the entire time. The Martian movie is pretty fantastic as well.
It tells the tale of Mark Watney, an astronaut who becomes stranded alone on the planet Mars and has to use his wit, engineering, and dogged determination to figure out how to survive long enough to make contact with earth. And pray for a means to intercept a returning voyage of astronauts or die alone on the planet.
It's riveting and full of adventure, and will also make you thankful that you live on earth.
And it will make you appreciate the brilliance of your average scientist a little more, as well as those who work for NASA. Seriously, rocket science isn't for the faint of heart (or mind).
10. Start with Why: How Great Leaders Inspire Everyone to Take Action
by Simon Sinek
This is a Must-Read for anyone in management, leadership, or building an organization.
Diving into what makes great companies just that, great, Simon illustrates that no one gets behind the What of our business, but will support the Why when it is conveyed with clarity.
Leaders who follow the precepts outlined in this book are destined to increase not only their bottom line but also the people who talk about the greatness of what you are leading.
This book was recommended by my mentor Steve Palfreyman and I highly recommend it to you.
11. Secrets of the Millionaire Mind: Mastering the Inner Game of Wealth
by T. Harv Eker
I picked this up in Audiobook from Half-Price books and listened to it at least 3 times beginning to end.
In 3 short discs, Eker illustrates the powerful differences between three different mindsets that are prevalent in America: Poor, Middle-Class, and Wealthy (or Rich).
I gained a lot of insights into how wealthy people as a whole think about opportunities, wealth building, relationships, growth, giving, and working starkly different than even middle-class people.
One of the biggest lessons gained is that when given a choice between two things, poor and middle-class-mindedness will choose one or the other.
Wealthy-mindedness will choose both.
This is just one of several valuable nuggets of wisdom that changed the way I think to increase how I operate my business and family, all with great results.
12. Me to We: Finding Meaning in a Material World
by Craig and Marc Kielburger
This year I really dove into the power of community-building, adopting the core principles of community enrichment as the foundational mission for all I do.
This was certainly one of the best books on the subject, highlighting how people around the world who have embraced a "We mindset" of helping others. It has transformed societies and helped communities of people thrive.
There are great real-world examples that Craig and his brother Marc use including spending time with Mother Teresa to illustrate the power of giving, service, and individual sacrifice. This is in the name of helping others to cut away from the selfish nature of Me-First that dominates the American way of life. And moving into a We-First attitude that has made strong, vibrant communities around the world.
It's a great example of real people doing these acts that inspire the kind of change our politicians and leaders aspire to do.
13. Growth Hacker Marketing: A Primer on the Future of PR, Marketing, and Advertising
by Ryan Holiday
I'll admit, I became a fan of Mr. Holiday this year.
Following The Obstacle Is The Way, I bookmarked on my Amazon account this book and bought it for myself for my birthday.
The new revised version has even more great content in just 120 short pages.
It's a thorough guide to how to adopt a mindset change to dramatically increase your audience base and marketability with little to no budget, paired with some additional materials including a FAQ and other bonuses.
I'm already putting this book into practice and it's super-charging what both of my businesses are doing.
In conclusion there's more to come in 2016 including a book by me
This year also marked the completion of my first book, which will be published officially in a few months.
It's called The Radio Promotion Handbook: The DIY Musician's Guide To Growth Hacking Your Audience Building And Networking Through Strategic Radio Airplay.
I'm going to be talking about this a lot in the coming months, and some of the biggest lessons learned from this book list found its way into this upcoming book.