Experience Still Matters. Here's Why
You used to have to go to college or attend a seminar to get the education that's now available online at a fraction-of-a-fraction of the cost. However, education alone won't make you successful, no matter what field you're in. Experience provides the testing ground to put education to work.
This is one reason why the aspect of selective education is so important. Think about it. In the information age, there's little you can't not-learn. The vast amount of data, education and information available can stymie your growth unless you choose to take it in stages.
This is where taking action-steps is so vital. For every blog article you read (including this one), take at least 1 action step towards putting what you gained to work (more on how to do that with this blog later on).
This is one reason why I challenge artists and entrepreneurs I work with through coaching to do specific actions after each of our sessions. The knowledge itself will take you places. However, you don't reach the milestones you set without taking action. Action and experience paired with knowledge and understanding makes you a badass growth phenomenon.
How Education Is Still A Key For Growth & Success
This year I've spent more time diving into education as a resource for my own personal growth. I've also worked to develop a powerful network of some of the best creative industry educators, especially those who specialize in specific areas of expertise like marketing, audience growth (superfans in particular), social media, and platform building.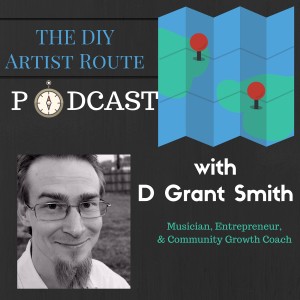 Among the amazing folks I've connected and shared insights with include Jay Coyle (Berklee Online), Jay Coyle (Berklee Online & Music Geek Services), Andrew Apanov (Dotted Music), Brandon Gaille (The Blog Millionaire), Tom Giles (StageBloc), Michael Zipursky (Consulting Success), Steve Palfreyman (Music Launch Summit) and Seth Godin.
Most recently I had Jeremy Young from Soundfly & Flypaper on the podcast to discuss the power of education for musicians and creative entrepreneurs. TONS of great insight there.
Each of these incredible people have shared some very specific ways that education is a win-win for us. They've even shared some unconventional education methods. Go back and listen/download their podcast episodes to get more specifics.
Experience & Education Grows Our Ability To Build Relationships
The more we learn the more we have the capacity to learn.
Pair this with a thankful heart and attitude of gratitude (think growth farming and heart gardens here my friend) and you create the perfect outlet for connection with other people on similar subjects.
Honestly, it was partially my curiosity about a subject paired with my interest in these people I've reached out to which led to our conversations, and ultimately our ongoing connection.
Opportunities Opened By Way Of Education
Education creates doorways for longer-term connections. It starts with being curious. Curiosity is an absolutely necessary ingredient to making growth happen.
If you're not curious how something works, or how you can learn to better yourself, it's really hard to have the discipline to stick with the learning process.
Education works because of curiosity and commitment to growth. Without those two ingredients, it easily can become another thing we start out of intrigue and put on the backburner when the next shiny thing comes along.
In this phase, asking questions to the many teachers and pros in whichever space you're spending time in creates a different kind of opportunity. It creates a different kind of connection. If you practice it well, with other insights you've learned here, you'll gain an advocate and friend from the person you originally just wanted help from in an educational capacity.
I read a lot of books, mostly in the nonfiction realm. Though I don't work in many of the industries that I read about, we can all learn some powerful methods of growth from those who have built something that works and that lasts.
I'm currently reading Tony Robbins' Money: Awaken The Giant Within.  It's a book that dives into several areas of personal and business growth. I've already learned a ton, and am already putting much of that learning into practice. I want to be great at practicing what I learn.
Another great book I read this year (that I highly recommend to you) is John C Maxwell's How Successful People Grow.
Obviously, growth is something I'm a big student of. This little pocket-sized book took me 3 months to read because each little section has so much powerful wisdom I couldn't fly through it. It's been transformation to my growth this year. You need to read it.
Curiosity and intrigue are why many of my entrepreneurial friends outside of music love The DIY Musician's Radio Handbook. The nuggets of community-building, effective communication, and networking in the book apply to everyone, regardless of your industry. It's especially powerful for musicians because the How-To for getting radio airplay, blog reviews, and so forth are clearly detailed.
Investing In Educational Platforms Works
If you're like me, you've probably signed up for a ton of free webinars, email courses, and online training programs that have a $0 price tag.
It's natural to want to see how to win in this entrepreneurial and creative business without spending much cheddar. However, most of the free stuff doesn't teach much.
There's a reason why education continues to grow as a platform for success. What we invest in we practice. If something doesn't cost us anything, we don't spend much effort or energy in putting it to work.
However, when the growth method/education has a cost to it, we are naturally inclined to take it more seriously and take action on what we learn. That's why if you really want to grow and learn how to do something from someone who truly knows their stuff, you should pay them for that information.
Knowledge is power. Experience is power. Knowledge plus experience plus great teachers create the kind of growth that can't be stopped.
In the grand scheme of things, many of the best online training vessels have a much lower cost than your average semester at a university. Even a $100-$500 training online is cheaper than a semester at a state college that will run you at least $4000, even if it's a junior college.
Plus, with online programs and training you get to be trained by people who are consistently putting their knowledge and experiences into practice. For a few hundred bucks (max price, often many courses cost much less), you can get the training and insights needed to skyrocket your success.
What Education Platforms Should You Try In 2017
As we look to the future, what goals do you have? Think about the specific areas of your music or creative enterprise that you want to grow in.
Knowing your goals is the first key step in determining where to put your focus and attention for growth through training and education.
This short list is some of the growth and education platforms I have experience with from working with these fine folks in the past, including taking their courses. With the exception of the Music Launch Summit (and my own course listed towards the bottom), there's no affiliate link in this for me.
I'm including these platforms because I believe in them and can attest to how effective they are. I'm not getting paid anything to do this, so the incentive is purely to help you. It's a straight plug for folks I know who do great work and who can help you grow.
Want some FREE education? Most of us do. Here's how you can get a free gift this season, just from me. Like I said in the last podcast episode, I'm giving away a few free copies of The DIY Musician's Radio Handbook to my Growth Farming community in my email list. You can sign up for my email list in the right hand column to connect more with me and have a way to get a free copy sent out soon. Looking forward to connecting more with you!