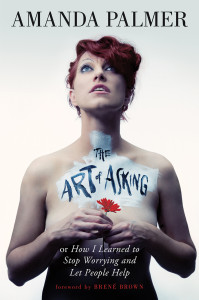 I've known the name Amanda Palmer for several years. I've known some of the music of Amanda Palmer for about the same amount of time. But after viewing her Ted Talk from 2013, I had to read her book The Art of Asking: How I Learned to Stop Worrying and Let People Help
because her talk spoke to my soul in a way very few people have.
Subsequently, I did something I very rarely do. I bought a brand new book from the book store and paid cover price. You can call me cheap, and you're right. I buy a lot of books (hard copy and paperback, not digital/Kindle) and my preferred sources are Half-Price Books and Goodwill. Amazon on occasion will do for hard to find stuff. It's important that you know this little facet about me because I don't buy new books hardly ever. I made an exception in this case and it was one of the best decisions made this year.
The Art Of Asking is billed as a memoir, and it is. But it's so much more. Palmer is not your typical artist, both musically or visually. And her openness and honesty with her struggles, self-image, and relationship building pave a subliminal pathway to understanding how asking really works. I've struggled my entire life with asking for anything, especially for help and for money. Yes, the two things we as humans, as creatives, and as builders need more than anything are these two things and I have spent decades trying to do so much on my own out of fear of asking.
Asking is a fear shared by you and I and (really) everyone else
It turns out that I'm not alone in having this fear. There's a strong chance you fear or are at least hesitant in asking for something, though it might not be what I am hesitant in asking for.  I can say it's because of how I was raised or grew up or something or other, but at the end of the day, I'm the common denominator for why I don't have what I want and why I couldn't ask for it. And I have to take responsibility for that.
The Art Of Asking was like a blueprint for me in shedding off the old skin that told me that asking for help, or asking for money, or asking for anything was a sign of weakness or failure, that it would annoy and bother people, that I would be perceived as a taker and not a giver, and that the answer would always be NO. Having written and now looking at that last sentence I see how frail my thinking and ideals had been for so long, which is why I'm so thankful for this book.
It turns out that Amanda struggled with asking too, though her reasons were different, and despite being able to ask her fans for nearly everything from promoting a gig to having a place to sleep after a show (couch surfing as she calls it) , there were somethings she struggled with for a long time before she could ask for it. It took nearly losing someone very close to her for that fear to break.
How to build community the Amanda Palmer way
The headline for this article states that The Art Of Asking is a community building manifesto and it certainly is that. From the perspective of audience growth, there are only a few other artists who have done anything close to building the kind of high powered, passionate, loyal and worldwide audience that Amanda Palmer has. She details what her fan growth process was and it mostly involves being WITH people, giving her fans access to her outside of the music stage, having personal and deep conversations with people who are strangers at first and then become something more.
This is how communities are built. Communication, openness and trust are the pillars of what build the communities we are a part of, be those artistic, business, or the locations we live in. Closing ourselves off from people and only giving them a portion of ourselves, or only showing them our gifts but not our faults limits the power of the community and the people who build it. This is not to say that there aren't methods of safeguarding yourself against people who don't have your best interests at heart. Amanda does give a few good examples of where openness went too far, and how she dealt with it. But being afraid of everyone in your community being a potential fiend is not how you treat the people who are building with you.
The Art Of Asking could have also been titled The Art Of Vulnerability or The Art Of Loving Completely. There are some very profound and powerful quotes that are still moving around in my brain, like seedlings just starting to grow roots that will sprout into amazing new things. I want to share some of those quotes with you here in the hopes that it will have a similar effect on you at the very least, and even more, lead you to read this book.
"It isn't what you say to people, it's more important what you do with them. It's less important what you do with them that the way you're with them."
"If you love them they will give you everything."
"It's about finding your people, your listeners, your readers, and making art for and with them. Not for the masses, not for the critics, but for your ever-widening circles of friends. It doesn't mean you're protected from criticism. But if your art touches a single heart, strikes a single nerve, you'll see people quietly heading your way and knocking on your door. Let them in. Them them to bring their friends up. If possible, provide wine."
Amanda does talk a lot about naysayers, and breaking free from the ideals or criticism of people who consider asking to be the same as "shameless self-promotion." This is especially hard for artists (or for anyone) who aren't naturally social. This is what leads many artists to try and find a promoter or label to do the asking for them. At times that's a good fit, but too often it's not because the art of connection is the art of communication, and even people who think they lack a social strength still need to engage directly with people in some capacity.
Overcoming the fear of asking for help
All artists and creators face a similar fear: the fear of rejection or the fear of criticism. That's honestly what kept me plugging away in near isolation building my work for many years. Thankfully I've been blessed to have some incredible friends, colleagues, and family who are givers despite my unwillingness to ask. Chances are you have connections with people like this too. What is keeping you from asking? Let me know, I'd love to hear your story and build community with you.
If you want more inspiration, enjoy her Ted Talk that would eventually lead to the writing of her memoir.

*Yes there are affiliate links to Amazon.com in this post for you to buy Amanda's book should you be so moved by my experience with it and want to have a similar experience yourself. I appreciate you reading and choosing to buy through this page. You can click on this image here to see more details on buying the book on Amazon (which is cheaper than any other bookseller, and free shipping if you're a Prime member).