Take Empowerment And Motivation To A WHOLE New Level
Despite having a background in radio and media, I wasn't always in front of people.
I certainly wasn't confident when I was. I used to struggle with serious self-doubt and self-worth issues.
These were led by a lot of fears and negativity that I wrestled with for a long time. It all started to change in 2007 when I took a chance on making big changes in my life in dealing with fear: I joined a boxing gym.
That experience helped me gain the confidence and inner strength to make other changes in my life.
I believe that LOVE is the key to having a happy, healthy and successful life. It's my mission in life to Be Love in all things.
Set up a time for us to talk about presenting to your event now or use this form to book me now.
Taking on this way of being has created a transformational life for me and for the clients and students I serve.
It's also been the #1 factor in overcoming the absolute worst pain in my life: healing from heartbreak and lifelong codependent patterns.
That subject is the focus of my new book Be Solid: How To Go Through Hell & Come Out Whole. It's also the main focus of many of my speeches, talks, and lectures.
Talking about self-Love through Relationship Growth Farming is one of the main ways I serve people in groups large and small to teach my unique method of personal growth. 
Because Love isn't something we chase or have to earn. It's already in us.
It just needs to be accepted and embraced.
Relationship Growth Farming is all about growing Love from within. 
Keynote Speaking On The Power Of Love To Transform Your Life & Relationships
Utilizing a combination of elements found inside my Be Solid book along with wisdom from incredible teachers, the KeyNote speech titled "How To Grow The Promise Land Within You" is a TedTalk-like presentation the delivers empowerment, perspective, tools and methods for personal growth, development, and spiritual exploration.
Here is an excerpt:
 "I had the opportunity to see D. Grant speak to our local Human Resources professionals group. The material that D. Grant presented was very relevant, not only to Human Resources professionals, but to other levels of business leaders and is a message that can be utilized by anyone in their day to day lives outside of work. D. Grant did a great job engaging the audience and demonstrating how we each have the power to change our mindset to positively impact other pieces of our lives and those around us."

-Megan Ratliff, HR Professional at TechnipFMC
Transform Your Event With A Dose Of Vitamin D Grant
Take empowerment and motivational speaking to a whole new level. Experience the difference in becoming the best version of yourself through a keynote or speaking presentation with me.
When you hear people say that "talent is a dime a dozen," they've had an average presenter talk to them. It's boring. Some dude reading off of slides that he dug up on some PowerPoint presentation no one cares about.
Or maybe you got the loud and boisterous presenter who hopes to wow you will his intensity. But you just end up wanting some Advil and a nap.
You want exciting, powerful, and engaging with a speaker. You're looking for a different kind of presenter and a different kind of experience.
Set up a time for us to talk about presenting to your event now or use this form to book me now.
More testimonials of experiences from my speaking engagements
I always provide workshop-style training for your attendees to be able to use everything they learn in their own lives. It's not just great teaching you're receiving. It's the practical, how-to application too!
Here's what one university professor said after I spoke to his class in the midst of mid-terms and a campus-wide program was happening at the same time (student stress level was at an all-time high!):
"I want to say thank you to D Grant Smith for coming to ACU to speak with my Spirituality in Social Work Practice class. I invited D Grant because of prior experience with him on the subject of mindful meditation. In my spirituality course, we discussed various spiritual traditions.
"Mindfulness and meditation are ancient practices of Eastern religions that have been re-discovered in modern Western culture. While speaking to the class, D Grant demonstrated mindful meditation by leading the class through both a teaching & training process as well as a guided meditation. He taught us how we can do meditation ourselves to bring more peace and healing to our minds.  
"At the end of the presentation, all of the students reported that they felt more relaxed. He connected well with students and they really valued and appreciated his presentation on the potential that mindfulness have for helping people maintain wellness."
-Alan Lipps, Ph. D; professor of Social Work at Abilene Christian University
"D Grant Smith is a well-oiled machine when it comes to motivational speaking. He is an inspiration to anyone who aspires to grow."
–Bird Thomas, Hendrick Home For Children
Provide A Solid Experience For Your Event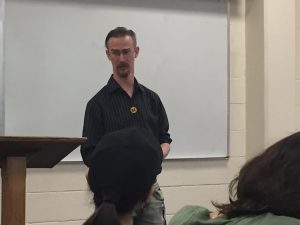 Here's what you get with me:
I deliver Empowerment, Inspiration, Tools, Entertainment, & Actionable Insights so that your audience gets the most out of it.
Add powerful storytelling and honest, real stories to the mix you will have a transformational experience like no other.
Self-love and self-care are big areas of focus that also include practical action steps for audiences to take away real tools to use in their lives.
Other speeches including humor and motivational leadership available by request.
[Inspiration/Motivation]Be Solid Keynote Address (Highlights)
Set up a time for us to talk about presenting to your event now or use this form to book me now.