You need help with keeping fear from your mindset. Fear is a struggle for everyone. It's a part of the human story. Now is an especially difficult time to deal with fear and worry.
How is fear messing with your mindset during the coronavirus quarantine?
Is the fear you're struggling with work and job related? Were you sent home without pay or are you struggling to figure out how you're going to pay your bills because your income generation is put on hold?
I completely understand that. I'm in the coaching and speaking space. People are hesitant about spending money on anything that isn't essential. Which has meant many people are just hunkering down and going into survival mode.
And speaking events? Those closed up around the world. Everyone in the event space is considerably in a very difficult position.
Has this mood in the coaching and speaking market caused me to be afraid of making ends meet?
Nope, not at all. Why not?
It's a mindset thing
Seriously. Your mindset determines so much. And it will create opportunities for you to be able to come out of any situation transformed and changed for the better.
How do I know?
I've lived the story of overcoming major trials and difficulties I didn't see coming. I'm still living this story. That's what my book Be Solid: How To Go Through Hell & Come Out Whole is about. It's more than overcoming heartbreak.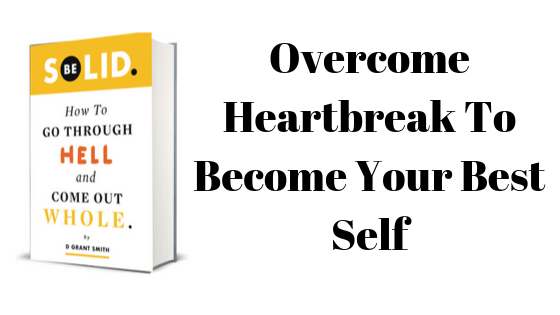 Heartbreak for me was the event that brought my worst fears to life and made them my reality. I could have run from the pain. Instead I chose a route that led to healing, wholeness, and the ability to overcome challenges that used to hold me back.
Pain and fear are linked to each other. We avoid pain out of fear. But we can be victorious over both of them. Here's how.
Way #1: BE Aware Of Your Thought Habits & Patterns
How much do you practice awareness? Are you aware of your thoughts and you're patterns? This is the most important first step in personal growth, healing, and overcoming difficulties.
The key here is to practice getting in tune with yourself. Also known as getting in alignment with you. If you want help with this or more information, reply and ask how this works. I'd love to show you how to practice this.
When you feel fear, let yourself be aware of the feeling. Ask yourself questions. A good place to start is, "What am I actually afraid of right now?"
Let your mind and heart speak to you. If you struggle with discerning between the voices of fear, your mind and your heart, that's good. Yes, I said that's good.
That's a step toward awareness because you're wanting to gain clarity on what you're actually hearing. Instead of blindly following the thought and accepting it as truth.
You can ask your mind if what you're thinking/feeling is fear. Once you identify fear, now you can deal with it appropriately.
Awareness helps you be able to articulate your feelings. You then know the difference between what your heart  is trying to figure out and something that fear wants you to believe.
Remember, in every garden there are weeds and thorns that you didn't consciously plant in yourself. You have to remove those so that healthy growth can happen.
Fear is a proverbial weed and thorn. It keeps you from growing and keeps you stuck.
Awareness is the first step in keeping fear from overwhelming your peace and taking away from your growth.
Way #2: Choose To Love Yourself & BElieve In Yourself
I didn't misspell "believe" here. BE in the believing state for yourself. That's important.
Choose to Love yourself instead of choosing to listen to fear. We often trust whatever thoughts pop up in our heads.
It's subtle. We're conditioned to believe that a random thought could be a sign from the universe or a word from God and that must be true.
Thoughts are thoughts. They're ideas. Subconscious thoughts tell you what your mindset programming is. That's why Awareness is so important.
Awareness shows you places where your internal programming is healthy and unhealthy. When you have fearful thoughts, or your thoughts are perpetually doubtful, angry, worried, and pessimistic, you are operating out of a fear mindset.
Instead, choose LOVE.
"I choose to LOVE myself. I Love myself. I am full of Love and hope and peace. Love is taking care of all of my needs, desires, and wants."
Say that to yourself three times in a row. That's one of the easiest ways to change your beliefs. Love conquers fear.
Affirmations and mantras are a fast way to recondition your brain and plant love in your inner garden. Want help with that? Comment below and we'll talk.
Tell me what you do to plant love in yourself or ask questions about how this works. I'm here to help you!
Way #3: BE Fully Committed & Accountable
Who are you fully committed to? Your spouse, your kids, your work….
That's cool. Be fully committed to your spouse and your kids. But start with you. BE fully committed to yourself first.
"I am fully committed to me and am going all-in on myself."
Use that affirmation daily and watch your patterns change. Your confidence will grow too. So will your decision-making.
Fully committed is a game-changer
You also need to be accountable. Who is holding you accountable for you choosing to operate out of Love instead of fear?
Word to the wise: your accountability needs to come from someone outside of your home environment. That way there's no bias and you have the conduit of truthfulness and honesty coming back at you.
Teachers and coaches are powerful agents of accountability. That's been my experience with the coaches and teachers I've had (and still have) as well as the students who've worked with me.
We don't do anything alone successfully. Not in the long term.
You're worth fighting for and investing in. So fully commit to yourself in choosing to remove fear from your mindset now, especially during a period in human history where fear is trying to take over the way people think and operate.
You are bigger than any fear
You can remove fear from your mindset and your heart. You can live in peace during this time and lay a powerful foundation for operating in peace regardless of what circumstances are impacting the world.
I know you can do this because this is my current way of living.
I've learned how to BE the peace despite what's going on around me.
You can learn how to live this way too.
I'd love to teach you. And do so in a way that is both conducive to your schedule and your pocket book.
I especially want to help you overcome the fears that are hindering your from peace at this time.
This a lifeline directly to you.  How do you want to remove fear from your mindset?
Schedule a time to meet with me now to dig into making this mindset shift a reality for you.