Fear seems to have a strong root in most of our lives. It produces negative beliefs about who we are and what we're capable of. That's why you have to learn how to overcome fear to produce your dream life.
Fear can also produce haters or people who seem to stop at nothing to try to bring you down. Often for no reason at all. Have you experienced people who seem to react out of bitterness and anger, and then take their emotions out on you?
Of course you have. This a subject all of us have to deal with.
Fear from your past experiences and people who've hurt you
I Love how movies help us see life in more powerful ways. The characters play out metaphoric and metaphysical truths about life. One of my favorite movies that do this in regard to fear is Creed 2, starring Michael B Jordan and Sylvester Stallone.
As you know, I'm a huge Rocky fan. Anything to do with that storyline gives me inspiration and reflection. His story is one of the best underdog tales in history.
Rocky had fears. In Rocky 3 he has a profound choice to make: whether he'll let his fear of defeat and being beaten up determine his view of himself for the rest of his life. It's something that I spoke about (and also used Batman to illustrate) in this short speech:
Fear produces things we often don't initially recognize
Ultimately, the saga of Rocky facing his worst fear was necessary for the third film. Without that shift in his mindset, he never would have been able to face the horror and trials of Ivan Drago in the next film.
Fast-forward in time (by about 35 years) and Apollo Creed's son Adonis faces the same obstacles. The sequel to Creed sees Adonis fight Drago's son Victor in a fight that looks like David v Goliath. It doesn't end well. But you need to see the film yourself to truly understand the power of what I'm sharing here.
Rocky faced fear he had never experienced before. Adonis did too. So do you and I. And it wasn't just the opponents in the ring. Often some of the by-products of fear are other people's response or treatment of us.
Suffice to say, there are always going to be people who don't like you. There will be people who don't understand you. They may judge you for things outside your control, or just take to try and bring you down.
You've probably experienced a degree of this at work. Or on Facebook. Or in your social circles. It sucks. That's an understatement.
How To Deal With Haters, Objections, & Difficult People
So how do we deal with people who prey on our fears? Do you put them in their place and work up the right comeback line to use to shut them down?
Or is there something else that works that keeps you from dropping down to the level of insults and negativity?
Is there something that keeps you on solid ground, while also maintaining your composure?
I'm going to tell you about what I've experienced in my own life. Both my inner heart-work personally, and the professional side of it that carries over with my teaching and coaching work.
Fear is a real thing that hits all of us
And we need to be prepared internally to handle the drama of the external worlds we operate in.
I encourage you to read the great book by Don Miguel Ruiz called The Mastery Of Love: A Practical Guide To The Art Of Relationships. It talks about how to center our lives around love by removing the lies we tell ourselves.
This inner work leads to the most fulfilling and solid relationships we can have. Because it begins with the relationship we have with ourselves.
When we're able to overcome fear through love for ourselves, we can overcome any negativity that comes from other people. Even people who treat you with disrespect and hate.
Which brings you success in every area of your life
Achieving this kind of success is how you overcome fear to produce the life of your dreams. Often it means that we have to prune our relationships, removing toxic people and influences so that life and fullness can be realized.
Toxic people are those who operate from anger, resentment, hostility, bitterness and stress. Ultimately, they are people who are controlled by their fears. They're often not aware of their actions, attitudes, and behaviors. So they project that negativity everywhere without necessarily knowing they are.
Simply put, their fears and personal insecurities are what drive all the decisions they make, and the ways they communicate.
If you know people like this in your life, it's not your job to save them. But it is your responsibility to Love yourself enough to not get sucked into the tractor-beam of their negative influence.
We have a choice in life for which way we'll follow. It's a choice between two ways: fear or love.
What Happens When Fear Controls Your Thoughts
When you operate out of fear, you reject yourself. This carries over into rejecting others. When you can't accept and love yourself, you can't fully love and accept others. You can't give away what you don't have.
Our emotions serve as the filter for how we see the world. If you're prone to lashing out or you get easily offended, that says a lot about the filters you're processing life with.
The way to have success in your life and relationships is to operate out of Love.
To operate out of Love is to view everything through a filter of kindness, peace, joy, and abundance. All four of these are key ingredients in Love.
This a completely different mindset than that of
"There's not enough for both of us"
"The grass is always greener over there"
"I can't believe you did that, you're awful!"
"You're ugly and unworthy of attention"
And on and on.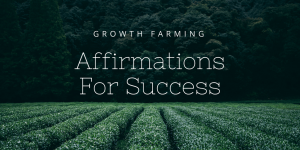 One way to shift in the way you see yourself to operate out of Love is changing the way you talk to yourself. I show you how to do that in the short ebook Growth Farming Affirmations For Success.
Change Your Thoughts From Fear To Love
When you operate out of Love, you attract more of it into your life. Light repels darkness. So when you operate out of Love, the negative and toxic people start to run away from you. Let them go.
When Love is your focus, you don't get upset by other people's negativity, actions, and behaviors.
You're able to recognize them exactly for what they are, and what they're going through. You become solid in yourself so that someone's opinion of you just doesn't matter.
And you can let it go.
Which is where forgiveness comes in.
Letting go is such a big part of our development as people and as Growth Farmers. Because holding on to the pain caused by other people is a fast way to keep yourself from experiencing the joys of success.
How to overcome fear to produce your dream life
Do you struggle with viewing life and people through a lens of fear? Maybe a painful experience like the loss of a relationship or heartbreak has led you to dwell in fear.
Does negativity and anger keep you from having peace in your own life and in your relationships with others? If this describes any of your experiences, I can relate. I used to be in that boat too.
Have peace, love, and success in your life
As I teach in my training programs, as you plant love in your heart, the Tree of Life will emerge through your life. This brings healthy relationships and gives you more richness than you've ever imagined!
If fear and negativity has caused you problems in your life and relationships, there is a way out. It starts with changing what you plant inside your mind and heart.
That's the subject of my book Be Solid: How To Go Through Hell And Come Out Whole. My personal hell was the end of my 12 year marriage and subsequent divorce. It illuminated my worst fears of rejection and abandonment.

But it was in the healing journey where I found how to embrace Love for what it really is. And how I discovered that actually Loving myself was the key to a happy and fulfilled life.
I overcame the destruction of fear by embracing Love and planting it inside me. That's what I show you how to do in the Be Solid book, and what I teach through this 15 Week Be Solid Training program. You can get more info on that at BeSolidBook.com.
We all have had experiences in our lives that can either break you or can be the fuel to make you into the best version of yourself. Choose to embrace Love. It's the key to the life of your dreams.